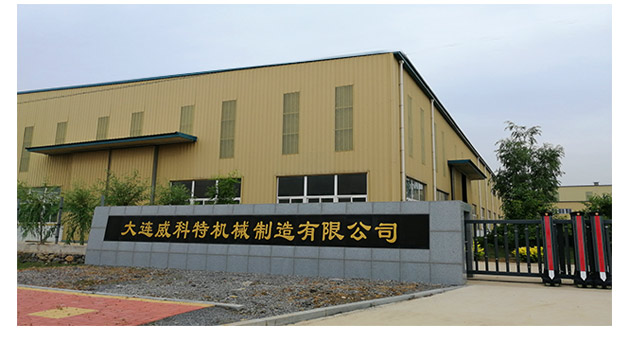 Dalian Vicot was founded in 2003 and moved to Dalian Jinzhou Economic and Technological Development Zone in 2012. The company has a registered capital of 25 million yuan and an area of 25000 meters 2, The office is located in Rongtong Building, No. 73, Liaohe West Road, Dalian Development Zone.
The company now has 68 employees, 15 with middle and senior professional titles, and more than 30 technicians. The company has passed the ISO9001:2015 quality management system certification, and has a number of patented technologies. After years of development, it has gradually formed a management, technology and production team with excellent quality and rich manufacturing experience, ensuring the company's sustainable development and innovation ability.
Main products of the company: manufacturing, processing and repair of parts and components of pressure machinery such as metal extruders and carbon extruders, with pressure rating of 12.5MN-235MN.
Including: extruder extrusion cylinder outer sleeve (nozzle sleeve) material: forgings 5CrNiMo, 5CrMnMo, H11, H13, etc; Castings ZG45, ZG20Mn, ZG25, etc.
Extruder extrusion cylinder lining (nozzle type) material: forgings H11, H13, etc; Castings ZG45, ZG20Mn, ZG25, etc.
Extruder extrusion rod (empty and solid) material: H13; Extruder scissors Material: H13; Extruder piercing needle material: H13; Extruder extrusion pad Material: H13
Main customers: Taiyuan Heavy Industry Binhai Forging, First Heavy Group Tianjin Heavy Industry, Liaoning Zhongwang, Nanshan Aluminum, Shandong Yankuang, Jilin Qixing, etc.
Other products of the company: After years of development, the company has gradually developed other major parts and components of the heavy machinery industry by taking advantage of its original advantages.
Including: shaft forgings used for wind power, thermal power, hydropower, waste heat power generation, plate rolling machine, metallurgy and other equipment, including rotors, turbine shafts, upper and lower rolls, rolls, etc. The materials include: 34CrNi1Mo, 34Cr1MoV, 60CrMnMo, 40Cr, 34Cr2Ni4MoV and other mining equipment, marine equipment, container equipment and other parts.
Dalian Vicote Machinery Manufacturing Co., Ltd. built 10000m 2 Machining and assembly workshop and 4000m 2 The metal structure workshop has many sets of various production and processing equipment, and the measuring tools and instruments meet the production and inspection requirements.
The main equipment is Φ 2.0X8m Φ 2.5X12m sleeper Φ 5.18X16m heavy sleeper; Φ 3.4m Φ 4m CNC vertical lathe; Φ 130mm、 Φ 110mm CNC boring and milling machine Φ 220mm、 Φ 110mm digital display boring machine; Φ 1.6X12m deep hole drilling and boring machine; CKH61200 CNC sleeper; Three-roll plate bending machine; 3 m * 3 m * 3 m heat treatment furnace, CNC wire cutting machine and other equipment, with a maximum lifting capacity of 100 tons.
In recent years, the company has continuously developed the aluminum extrusion tool and carbon extrusion machine parts manufacturing and extrusion tool market, and gradually formed a complete processing and manufacturing, repair, parts production system. Both the products and the delivery date have been recognized by users, which has taken a big step towards the professional development of extrusion tools. At the same time, other products of the company have also been gradually recognized by the market, laying a foundation for the company's comprehensive development and sustainable development.